This beautiful salad is so easy and is a great way to make use of day-old bread and whatever fresh veggies you've found at the farmer's market. This recipe uses vibrant green peas, asparagus and spinach, but feel free to add anything else you want, including cherry tomatoes, red onion and cucumber. You can use any kind of bread that you want, but we love a hearty whole grain loaf. Dressed with just a splash of heart healthy olive oil, this panzanella is low in fat and high in vitamins and fiber.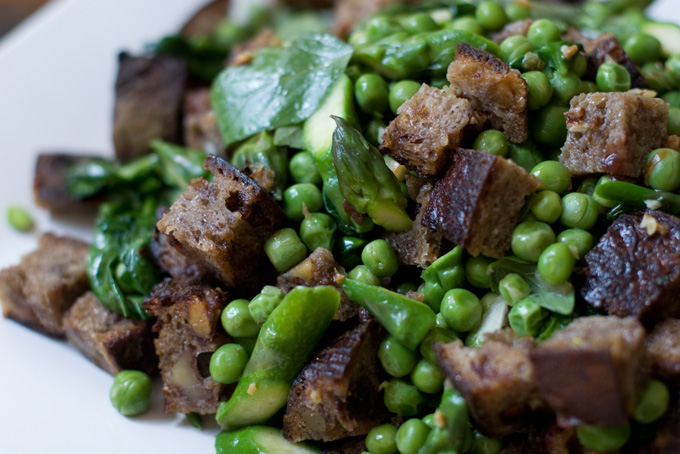 Summer Panzanella
Ingredients:
1 lb loaf of day-old bread, cut into 1-inch cubes
4 cloves garlic, chopped
1 shallot, chopped
1 tablespoon fresh thyme – just pluck leaves from the sprig
a couple pinches of salt
1/4 cup extra-virgin olive oil
1 bunch asparagus, cut into segments
2 cups peas
4 handfuls spinach
1/4 cup small basil leaves
Directions:
In a large bowl toss the bread with the garlic, shallot, thyme, salt and olive oil. Turn the bread out onto a baking sheet and toast in a 350 degree oven for about 15 minutes – or until they are nice and golden and crunchy.
In a cold skillet pour in a splash of olive oil, a splash of water, and a couple pinches of salt. Dial up the heat and when the water starts to bubble stir in the asparagus. Cover, wait about twenty seconds, then add the peas. Cover again, wait a few seconds, then add the spinach. Cover and cook just a few more seconds until the spinach starts to collapse just a bit.
Put the bread crumbs in a large bowl. Now pour the asparagus and peas and all the pan juices over the top of the bread.
Give it a good toss, add the basil leaves and toss again. Serve immediately and enjoy!
Recipe credit: 101cookbooks.com